JBL Tuner Portable Wireless Bluetooth Speaker, Stereo Black

Enabled Features
Wireless Bluetooth Streaming
Up to 8 hours of play time
Battery Capacity: 2000 mAh
Blacklit LCD Display
Warranty:1 Year Manufacturing Warranty
Most of the time Delivered in 5 days.
View More
View Less
JBL Tuner FM is a compact portable Bluetooth speaker packed with powerful sound and crystal clear FM radio sound. You can now enjoy your favourite tracks and radio stations anywhere thanks to its compact design and a rechargeable battery that supports up to 8 hours of playtime. It features an easy to view scrolling backlit LCD screen and 5 FM direct present buttons to quickly tune into your favourite stations.
JBL Signature Sound
For over 60 years, JBL has engineered the precise, impressive sound found in big venues around the world. This portable BT speaker with FM reproduces that same JBL sound, punching out bass that's both deep and powerful.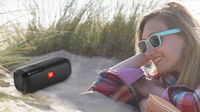 Wireless Bluetooth Streaming
Be it Metallica, Green Day or any other band, with this speaker you can wirelessly stream just about any song present on your phone as it supports Bluetooth-connectivity (4.1).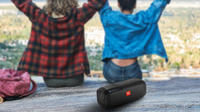 8 Hours of Playtime
It packs a 2000-mAh rechargeable battery that offers about 8 hours of playtime to make for uninterrupted audio experience.
Backlit LCD Display
Thanks to its scrolling backlit LCD display, you can view the details of various radio stations quite conveniently.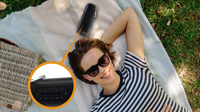 FM Digital Tuner with 5 Preset Buttons
If you ever get tired of listening to your own playlist, then you can always listen to what the radio stations are playing as this speaker also supports FM. This JBL speaker has 5 FM preset buttons that let you tune in to the radio stations of your choice easily.
| | |
| --- | --- |
| Model | JBLTUNERFMBLKIN |
| Model Name | TUNER |
| Item Weight | 445 g |
| Product Dimensions | 16.5 x 6.6 x 6.6 cm |
| Batteries: | 1 Lithium Polymer batteries required. (included) |
| Item model number | JBLTUNERFMBLKIN |
| Compatible Devices | Audio Player , Laptop, Mobile, Tablet |
| Additional Features | Radio |
| Number Of Items | 1 |
| Speaker Surround Sound Channel Configuration | 4.1 |
| Speaker Connectivity | Bluetooth |
| Wattage | 8 Watts |
| Power Source | AC |
| Battery Average Life | 8 Hours |
| Batteries Included | Yes |
| Batteries Required | Yes |
| Battery Cell Composition | Lithium Polymer |
| Connector Type | wireless, Bluetooth |
HERE IS HOW THE FAVOBLISS PRODUCT RETURNS & REFUND POLICY WORKS

In the refund or replacement or exchange process there is a complete chain to sort out the issues from the side of the customer.
After receiving the product from FAVOBLISS through delivery boy customer receives product and raises query for refund or replacement or exchange again a particular process is followed so kindly record an unboxing video as per the company policies and mail that video at support@favobliss.com The maximum number of days takes for a refund or replacement or exchange process is 10 days.*
Log in to Favobliss and go to your Orders tab. Tap or click on Return to create a request.
Select your applicable reason of return — based on which the option of an exchange, where applicable, will appear. Three options will be available:
Exchange: Your order will be exchanged for a new identical product of a different size or color
Replace: The product in your order will be replaced with an identical product in case it is damaged (broken or spoiled) or defective (has a functional problem that causes it not to work).
Refund: If the product of your choice is unavailable in your preferred size or color or model, or if it is out of stock, you may decide that you want your money back. In this scenario, you may choose a Refund to have your money returned to you Depending on the kind of product you wish to return, your return request may have to undergo a verification process Following verification, you will be required to confirm your decision-based on the category of the product ordered.
Keep ready all the requisite items necessary for a smooth returns process — including invoice, original packaging, price tags, freebies, accessories, etc.
Kindly unbox your product safely so that you don't damage your product's packaging otherwise your refund or replacement request will not be accepted.* If you received a broken product or mismatched product kindly mail us within 24hrs of your delivery date with video clips and images**.
If you have received a damaged or defective product or if it is not as described or mismatched product, you can raise a replacement request on the Website/App/Mobile site within 5 days of receiving the product. In case you have ordered TV or Mobile, our delivery executive will give you onsite unboxing of your product**.
Pickup and Delivery of your order will be scheduled hand-in-hand in case of exchanges and replacements Refund will be initiated and processed if applicable after the pickup has been done with 5-7 working days.
Your request will be fulfilled according to Favobliss's returns/replacement guarantee.