LG 139cm (55 inch) 4K Ultra HD Smart TV 55UM7300PTA (2019 Model) Ceramic BK + Dark Steel Silver

Enabled Features
Resolution: 4K Ultra HD (3840x2160) Rate: 50 Hz
Connectivity: 3 HDMI ports to connect set top box, Blu Ray players, gaming console connect hard drives and other USB devices
Sound: 20 Watts Output | Wireless sound
Smart TV Features: AI ThinQ with built-in google assistant and Alexa | Magic remote | AI acoustic tuning | Miracast (screen sharing)
Display: 4K IPS display | 4K active HDR | Wide viewing angle | True color accuracy | DTS virtual: X
Warranty: 1 Year LG India Comprehensive Warranty and additional 1-year Warranty is applicable on panel/module
View More
View Less
LG LED smart TV. With its 4K resolution and true color accuracy, displaying almost 100% color accuracy, even from a 60-degree angle. Expand your TV viewing experience with both the built-in Google Assistant and Amazon Alexa (no external devices required). Just ask, and LG AI TV satisfies your curiosity in your interests this TV delivers lifelike visuals with rich and sharp colors. It also has built-in speakers that produce multi-dimensional sound, enhancing your overall viewing experience.
| | |
| --- | --- |
| Brand | LG |
| Model | 55UM7300PTA |
| Color | Ceramic BK + Dark Steel Silver |
| Display Resolution | 3840x2160 4K |
| Display Size | 55 inches |
| USB Port | 2 |
| Display Type | LED |
| Operating System | LG WebOS |
| Media Format | AVI, Blu-ray, DVD, MPEG, WAV, WMA |
| Model Year | 2019 |
| Item Dimension | 23.1 x 124.4 x 78.6 cm |
| Connectivity | Wi-Fi |
| Graphic Processor | QuadCore |
| Image Format | PSD, TIFF, GIF, PNG, RAW, JPEG |
| Item Weight | 14 kg 500 g |
| Manufacturer | LG Electronics India Pvt. Ltd |
| Inbox | 1 LED TV , 1 Table Top Stand , 1 User Manual , 1 Warranty Card , 1 Remote Control |
| Warranty | 1 Year LG India Comprehensive Warranty and additional 1 year Warranty is applicable on panel |
| Origin | India |
4K Resolution on IPS Display
This TV, with its IPS display, delivers high-resolution visuals that are vivid and lifelike.
Wide-viewing Angle
You can experience 100% color accuracy even when you're watching this TV from a 60-degree angle.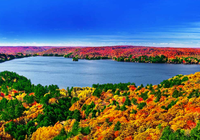 Quad-core Processor
This processor removes noise and upscales an image to its 4K quality. This helps in delivering visuals with dynamic color and contrast.
True Color Accuracy
This TV produces rich, sharp and true-to-life colors on the screen.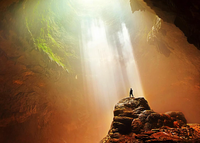 4K Active HDR
This TV supports multi-HDR format, including HDR10 and HLG, letting you enjoy content in excellent HDR quality.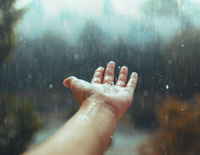 DTS Virtual:X
The built-in speakers of this TV produce clear and multi-dimensional sound from all angles.
One-touch Sound Tuning
This technology recognizes your watching spot to offer optimized sound, ensuring an immersive aural experience.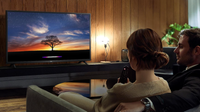 AI Smart
With in-built Google Assistant and Alexa, you can simply ask this TV for recommendations as per your interests. You can also easily control other connected devices.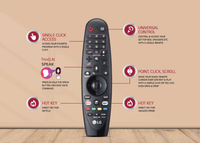 Magic Remote
The Bluetooth-based LG Magic Motion Remote lets you operate the TV from almost any corner of your room.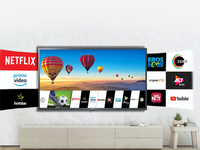 AI ThinQ
Now, you can watch your favorite shows or movies from Netflix, Amazon Prime or Hotstar, thanks to the WebOS technology.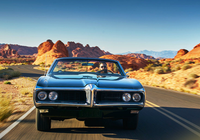 Easy Connectivity
You can watch your favorite content by simply connecting USB or other external hard drives to this TV. You can also connect your Bluetooth headset or the HTS/soundbar to this TV in a wireless way by using its 2-way Bluetooth connectivity option.
Airplay2
Play music, watch videos or even view photos on the big screen by connecting your Apple devices to this TV. You can also browse through video libraries and iTunes in a hassle-free way.
Home Dashboard
It allows you to access the connected smart devices from this TV's screen remotely.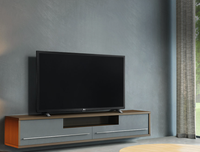 Design
This TV features a slim bezel with sleek modern lines, making it look simple and exquisite. It blends it seamlessly with your home's decor.
Product Specification
Brand

LG

Model

55UM7300PTA

Model Year

2019

Item Weight

1.95 Kg

Product Dimensions

8.7 x 124.4 x 72.6 cm

Batteries:

2 AA batteries required.

Item model number

55UM7300PTA

Ram Memory Installed Size

1.5 GB

Operating System

WebOS

Hardware Interface

HERE IS HOW THE FAVOBLISS PRODUCT RETURNS & REFUND POLICY WORKS


In the refund or replacement or exchange process there is a complete chain to sort out the issues from the side of the customer.
After receiving the product from FAVOBLISS through delivery boy customer receives product and raises query for refund or replacement or exchange again a particular process is followed so kindly record an unboxing video as per the company policies and mail that video at support@favobliss.com The maximum number of days takes for a refund or replacement or exchange process is 10 days.*
Log in to Favobliss and go to your Orders tab. Tap or click on Return to create a request.
Select your applicable reason of return — based on which the option of an exchange, where applicable, will appear. Three options will be available:
Exchange: Your order will be exchanged for a new identical product of a different size or color
Replace: The product in your order will be replaced with an identical product in case it is damaged (broken or spoiled) or defective (has a functional problem that causes it not to work).
Refund: If the product of your choice is unavailable in your preferred size or color or model, or if it is out of stock, you may decide that you want your money back. In this scenario, you may choose a Refund to have your money returned to you Depending on the kind of product you wish to return, your return request may have to undergo a verification process Following verification, you will be required to confirm your decision-based on the category of the product ordered.
Keep ready all the requisite items necessary for a smooth returns process — including invoice, original packaging, price tags, freebies, accessories, etc.
Kindly unbox your product safely so that you don't damage your product's packaging otherwise your refund or replacement request will not be accepted.* If you received a broken product or mismatched product kindly mail us within 24hrs of your delivery date with video clips and images**.
If you have received a damaged or defective product or if it is not as described or mismatched product, you can raise a replacement request on the Website/App/Mobile site within 5 days of receiving the product. In case you have ordered TV or Mobile, our delivery executive will give you onsite unboxing of your product**.
Pickup and Delivery of your order will be scheduled hand-in-hand in case of exchanges and replacements Refund will be initiated and processed if applicable after the pickup has been done with 5-7 working days.
Your request will be fulfilled according to Favobliss's returns/replacement guarantee.