Fitbit Versa 3 Health & Fitness 4.01 cm Amoled, Alexa Built-in, 6+ Days Battery, Fast Charging, Gold/Midnight Blue

Smart Watch
Best For | Unisex
AMOLED Touchscreen Display
Lifestyle | Fitness | Outdoor
Compatible Devices | Smartphones | Tablets
Basic Features | Alarm Clock | Calendar | Date & Time

Warranty:

1 Year Warranty
Most of the time Delivered in 5 days.
View More
View Less
Fitbit Versa 3 Smart Watch (GPS, 40.13mm) is loaded with so many specifications. It helps you to track calorie burn and optimize workout efforts with the enhanced PurePulse 2.0 technology. It also helps in 24/7 Heart Rate Tracking making it more efficient. Also, it monitors your Oxygen Saturation (SPO2) level. It is designed with an Always-On Display Mode that makes it more useful. It comes with a bright AMOLED display for an easy view of notifications and stats. Choose from hundreds of clock face designs and store up to 5 of your favorites right on your wrist, then easily switch your look from classic to modern and back. See your time in light, deep, and REM sleep and get a daily Sleep Score in the Fitbit app. The Smart Wake helps to set your Fitbit alarm to wake you with a quiet vibration during a lighter sleep stage. Snooze uninterrupted by using sleep mode to mute smartphone notifications and stop your screen from turning on at night. Unlike most high-end wearable devices, the Fitbit Versa 3 Smart Watch (GPS, 40.13mm)'s price is affordable and easy on the pocket. It also provides you with Guided Breathing Sessions that are personalized based on your heart rate. Know your body better by using Versa 3 and the Fitbit app to log periods, record symptoms, track your ovulation and discover patterns in your cycle. It also provides you with personalized reminders. You can choose from up to 20+ exercise modes to get real-time stats during your workouts. Can't find your phone? Easily locate a misplaced phone right from your wrist by using the built-in Find My Phone app on your Fitbit watch. Utility meets perfection when you get the Fitbit Versa 3 Smart Watch (GPS, 40.13mm) online, which comes with built-in GPS. It helps you to see your pace and distance without your phone, then see a map of your workout route in the Fitbit app. After outdoor exercise, check your workout intensity map in the Fitbit app to see your heart rate zones throughout your route and learn where you put in the most effort. Active Zone Minutes help you make every minute count during workouts by buzzing your wrist when you enter your personalized target heart rate zone. You can track all-day activities like steps, distance, floors climbed, active minutes, and calories burned. This watch is water-resistant to 50 meters, which means you're free to track laps in the pool and wear it in the shower, at the beach, and beyond. Store and play music and podcasts with Deezer, plus control Spotify from your wrist. Use the built-in mic and speaker to take Bluetooth calls hands-free, send callers to voicemail, and adjust the volume. Get notifications for calls, texts, calendar events, and apps like Gmail and Facebook—plus send quick replies and voice replies right from your wrist. It comes with Google Assistant or Alexa Built-in that enhances its usability. With a 6+ day battery life, it tracks your morning, night, and everything in between without needing to stop for a charge.

* This Fitbit Versa 3 Smart Watch video is for illustration purpose only.
Motivation, inspiration, personalization—everything you need to just go.
Live life unlimited with Versa 3.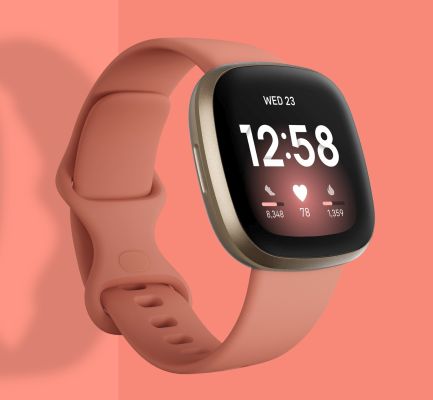 * This Fitbit Versa 3 Smart Watch image is for illustration purpose only. Actual image may vary.
Inspiration to get outdoors
Take your workout outside with built-in GPS to track pace and distance and a workout intensity map in Fitbit app that shows where you worked hardest along your path.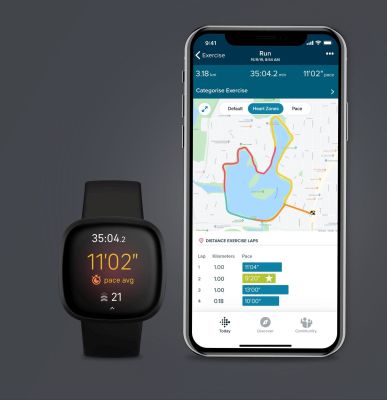 * This Fitbit Versa 3 Smart Watch image is for illustration purpose only. Actual image may vary.
Work out smarter
Make the most of every minute with Active Zone Minutes. Feel a buzz when you reach your target heart rate zones during exercise and celebrate when you earn extra minutes outside of exercise.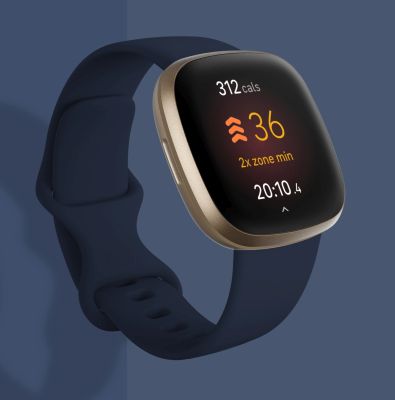 * This Fitbit Versa 3 Smart Watch image is for illustration purpose only. Actual image may vary.
Mix from your wrist
Control your Spotify app and add Deezer playlists so you can play, pause, skip, like and shuffle music and podcasts on your watch.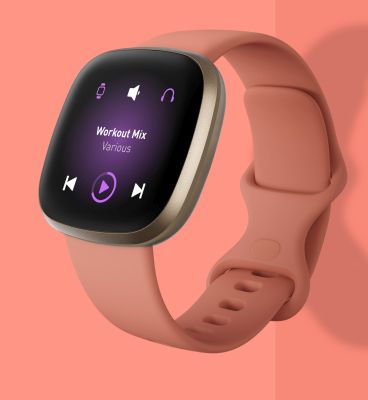 * This Fitbit Versa 3 Smart Watch image is for illustration purpose only. Actual image may vary.
Make the most of your ZZZs
Take your time in light, deep and REM Sleep, then get a Sleep Score to better understand your sleep quality. And use the Smart Wake alarm to wake up during the optimal stage of sleep and be ready to take on your day.

* This Fitbit Versa 3 Smart Watch image is for illustration purpose only. Actual image may vary.
Never miss a beat
Stay in the know when you're on the move with call, text and smartphone app notifications from your wrist. Plus check the weather, set alarms and more with Google Assistant and Alexa Built-in.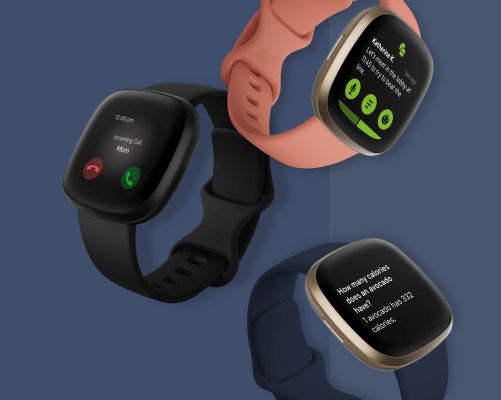 * This Fitbit Versa 3 Smart Watch image is for illustration purpose only. Actual image may vary.
Born to move with you
Versa 3 is lightweight and water resistant with a flexible infinity band , so you'll feel comfortable whether you're strolling, sweating or splashing around. And with a large clock face and bright AMOLED display you can easily view notifications and stats.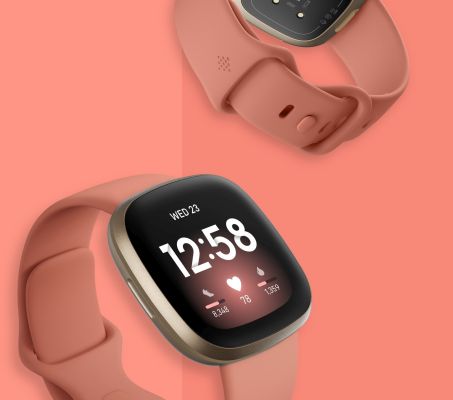 * This Fitbit Versa 3 Smart Watch image is for illustration purpose only. Actual image may vary
Brand
Brand
Fitbit
Model
Model
Versa 3
Colour
Colour
Gold/Midnight Blue
Best for
Best for
Unisex
Bluetooth Supported
Bluetooth Supported
Yes
Compatible Devices
Compatible Devices
Smartphones | Tablets
Product Category
Product Category
Smart Watch
Bluetooth Specifications
Bluetooth Specifications
Bluetooth 5.0
Health Tracker
Health Tracker
Heart Rate | Sleep Monitor
Resistance
Resistance
Water Resistant
Activity Tracker
Activity Tracker
Steps | Distance | Active Minutes | Calories Burned | Sleep Tracking | Swim Tracking
Voice Guidance
Voice Guidance
Yes
Battery Life Details
Battery Life Details
6 Plus Days, Up to 5 Hours with Continuous GPS
Function Type
Function Type
Date & Time | Calendar | Alarm Clock
Body Material
Body Material
Aluminum
Dial Size
Dial Size
4.01 cm
Screen Size in Inches
Screen Size in Inches
0.98 Inches
Accessories
Accessories
Charging Cable
On-Device Controls Type
On-Device Controls Type
Touch Controls | Buttons
Technology Used
Technology Used
Lithium Polymer
Smart Assistance & Control
Smart Assistance & Control
Alexa Supported
WiFi Supported
WiFi Supported
Yes
WiFi Specifications
WiFi Specifications
IEEE 802.11b/g/n
WiFi Features
WiFi Features
2.4 GHz
Additional Features
additional Features
Sleep Mode, 24/7 Heart Rate Tracking, Sleep Stages & Sleep Score, Saves 7 Days of Detailed Motion Data, Minute by Minute, Stores Heart Rate Data at 1-Second Intervals During Exercise Tracking and at 5-Second Intervals All Other Times, Operating Temperature: -20 Degree C to 60 Degree C, Smart Wake, Guided Breathing Sessions, Menstrual Health Tracking, Personalised Reminders, Active Zone Minutes, Cardio Fitness Level, Music Experience, Calls From Your Wrist, Do Not Disturb Mode, Hundreds of Clock Faces, PurePulse 2.0 Technology
Manufacturing & Packing Information
Manufacturing & Packing Information
Fitbit Inc. | Office No. 35 First Floor Shiva Arcade Acharya Niketan Mayur Vihar Phase-1 Mayur Vihar New Delhi DL 110091
HERE IS HOW THE FAVOBLISS PRODUCT RETURNS & REFUND POLICY WORKS

In the refund or replacement or exchange process there is a complete chain to sort out the issues from the side of the customer.
After receiving the product from FAVOBLISS through delivery boy customer receives product and raises query for refund or replacement or exchange again a particular process is followed so kindly record an unboxing video as per the company policies and mail that video at support@favobliss.com The maximum number of days takes for a refund or replacement or exchange process is 10 days.*
Log in to Favobliss and go to your Orders tab. Tap or click on Return to create a request.
Select your applicable reason of return — based on which the option of an exchange, where applicable, will appear. Three options will be available:
Exchange: Your order will be exchanged for a new identical product of a different size or color
Replace: The product in your order will be replaced with an identical product in case it is damaged (broken or spoiled) or defective (has a functional problem that causes it not to work).
Refund: If the product of your choice is unavailable in your preferred size or color or model, or if it is out of stock, you may decide that you want your money back. In this scenario, you may choose a Refund to have your money returned to you Depending on the kind of product you wish to return, your return request may have to undergo a verification process Following verification, you will be required to confirm your decision-based on the category of the product ordered.
Keep ready all the requisite items necessary for a smooth returns process — including invoice, original packaging, price tags, freebies, accessories, etc.
Kindly unbox your product safely so that you don't damage your product's packaging otherwise your refund or replacement request will not be accepted.* If you received a broken product or mismatched product kindly mail us within 24hrs of your delivery date with video clips and images**.
If you have received a damaged or defective product or if it is not as described or mismatched product, you can raise a replacement request on the Website/App/Mobile site within 5 days of receiving the product. In case you have ordered TV or Mobile, our delivery executive will give you onsite unboxing of your product**.
Pickup and Delivery of your order will be scheduled hand-in-hand in case of exchanges and replacements Refund will be initiated and processed if applicable after the pickup has been done with 5-7 working days.
Your request will be fulfilled according to Favobliss's returns/replacement guarantee.