Inalsa Nutri Fry Digital 1400W 4L With 8 Preset Air Fryer, Black

Aircrisp Technology
8-Preset Modes
Time Selection
Digital Display
Touch Control Panel
4 Litre Food Basket Capacity
Varible Temperature Control
1400 Watts Power Consumptionm

Warranty:

2 Years manufacturer warranty
Most of the time Delivered in 5 days.
View More
View Less
Getting healthy, lean, and fit takes more than just the right nutrition intake. Food preparation plays a big part as well. Inalsa Nutri Fry Digital air fryer is your perfect partner in keeping your family healthy. The oilless electric air fryer machine cooks food with little to no oil at all. Now, prepare healthy meals more efficiently to achieve tasty and low-fat food with benefits. This air fry cooker features an 8 preset menus, just a single touch will cook your choice of food with proper time and temperature.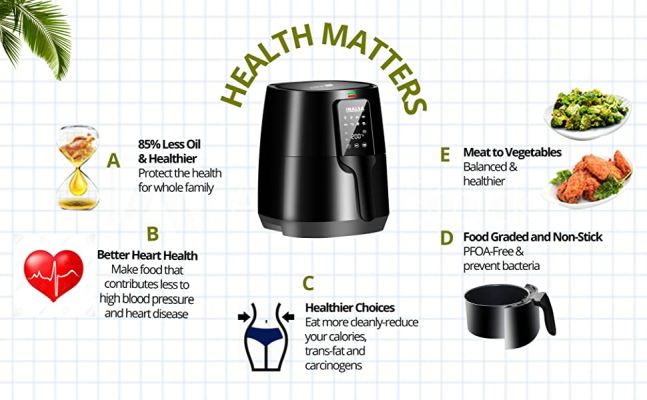 * This Inalsa Nutri Fry Digital Specialty Appliance image is for illustration purpose only. Actual image may vary.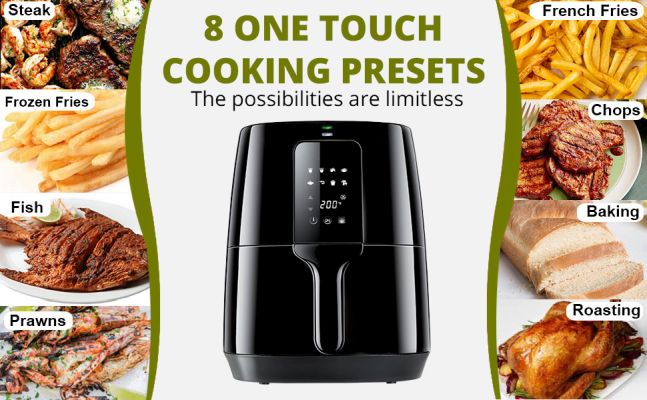 * This Inalsa Nutri Fry Digital Specialty Appliance image is for illustration purpose only. Actual image may vary.
FEATURES TO LOOK IN FOR
HEALTHY EATING by cooking with 85% less oil for fat-free delicious meals. Same flavor and crispy finish without the added calories! Simply add food to the drawer pan, add a tbsp of oil if desired, set temp/time, and start cooking!
FAST PREPARATION 360° air circulation technology and with 1400W of power this air fryer ensures that every inch of the meal is well heated thus crisped by rapid supper-heated air. Just put ingredients into the fryer basket, push a couple of buttons and wait for the meals to get prepared.
PERFECTLY CRISPED results every time. This electric multi-cooker system cooks food brown and crispy on the outside and keeps moisture inside without the excessive use of oil that has too much fat. Prepares great tasting crispy skins and is perfect for making potato fries
CHEF IT UP with 8 Preset Menu. Go beyond preparing french fries in air fryers. Now prepare Pork Chops, Rotisserie Chicken, Sweet Potato Fries, Fried Chicken, Doughnuts, Meatballs. This multi-functional air-fryer gives you perfect results every time. With this product, you can cook with confidence and impress your guests.
SMART APPLIANCE This air fryer features a large touchscreen display with a variety of settings, required Temperature Range from 40°C-200°C, Timer settings, and Start/Stop button to make it easier to change settings mid-cycle. The ideal settings for each dish allow more accurate and precise cooking, you can't go wrong with this digital air-fryer.
ENOUGH FOR EVERYONE, the perfect appliance for picky eaters, large families, entertaining, or those with busy schedules With 4L make an abundance of appetizers, desserts, chicken wings, french fries, or even baked goods, and all within minutes of setting the timer - it couldn't be easier !!
GUILT-FREE FRYING lets you enjoy crispy veggie chips, fish fillets, chicken tenders, and more without fatty oils. Includes delicious and healthy recipes to get you started.
COOL-TOUCH HANDLE lets you safely remove fried foods from the air fryer without burning your hands. The exterior of the Nutri Fry air fryer retains its pristine condition with just a damp cloth.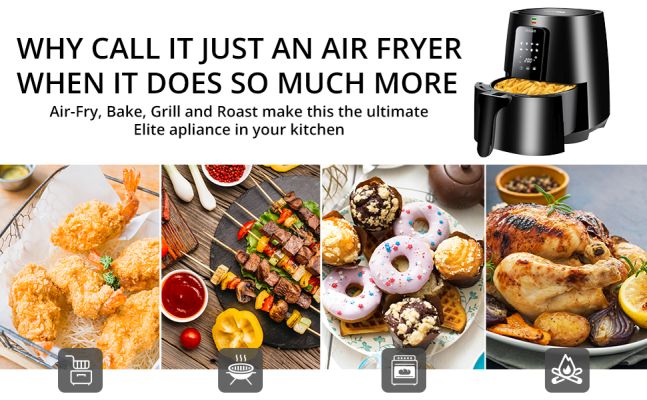 * This Inalsa Nutri Fry Digital Specialty Appliance image is for illustration purpose only. Actual image may vary.


* This Inalsa Nutri Fry Digital Specialty Appliance image is for illustration purpose only. Actual image may vary.
HERE IS HOW THE FAVOBLISS PRODUCT RETURNS & REFUND POLICY WORKS

In the refund or replacement or exchange process there is a complete chain to sort out the issues from the side of the customer.
After receiving the product from FAVOBLISS through delivery boy customer receives product and raises query for refund or replacement or exchange again a particular process is followed so kindly record an unboxing video as per the company policies and mail that video at support@favobliss.com The maximum number of days takes for a refund or replacement or exchange process is 10 days.*
Log in to Favobliss and go to your Orders tab. Tap or click on Return to create a request.
Select your applicable reason of return — based on which the option of an exchange, where applicable, will appear. Three options will be available:
Exchange: Your order will be exchanged for a new identical product of a different size or color
Replace: The product in your order will be replaced with an identical product in case it is damaged (broken or spoiled) or defective (has a functional problem that causes it not to work).
Refund: If the product of your choice is unavailable in your preferred size or color or model, or if it is out of stock, you may decide that you want your money back. In this scenario, you may choose a Refund to have your money returned to you Depending on the kind of product you wish to return, your return request may have to undergo a verification process Following verification, you will be required to confirm your decision-based on the category of the product ordered.
Keep ready all the requisite items necessary for a smooth returns process — including invoice, original packaging, price tags, freebies, accessories, etc.
Kindly unbox your product safely so that you don't damage your product's packaging otherwise your refund or replacement request will not be accepted.* If you received a broken product or mismatched product kindly mail us within 24hrs of your delivery date with video clips and images**.
If you have received a damaged or defective product or if it is not as described or mismatched product, you can raise a replacement request on the Website/App/Mobile site within 5 days of receiving the product. In case you have ordered TV or Mobile, our delivery executive will give you onsite unboxing of your product**.
Pickup and Delivery of your order will be scheduled hand-in-hand in case of exchanges and replacements Refund will be initiated and processed if applicable after the pickup has been done with 5-7 working days.
Your request will be fulfilled according to Favobliss's returns/replacement guarantee.